These days of 18th CPC congress (十八大) frenzy, it can be interesting to note that many other things happen around China. A few weeks ago news emerged about an attack on a border post in Kargilik county (叶城县), south of Kashgar in Xinjiang. The attack occurred on Chinese national day 1 October. A young man rode his electric bike (电单车) into a border post, and around 20 people were killed or injured in an explosion. The border post was in Kokkowruk village (阔可寇热克村) in Chasamechit township (恰萨美其特乡).
Not long before the attack, but well ahead of the party congress, state news agency Xinhua (新华社) started a dedicated Uyghur news page. It almost immediately came under fire from Uyghur exiles for "brainwashing" Uyghurs. But how many people trust official Chinese media without reflection, even in Xinjiang? Maybe no-one cares, but maybe it also fits very well with CPC media strategy and with giving an image of multiculturalism.
The media focus on the CPC congress is understandable, but one may also learn much about what happens in China through watching other areas, following trends and events outside Beijing. It is highly unlikely that anything unexpected would happen at the CPC congress, and that Xi Jinping and other leaders-elect would make drastic changes day one of their term of office. Therefore it is more interesting to look into the play on the sides, the protests in the countryside – and the games around leaders even further on in time. It seems that even Xinjiang may play a part in the game.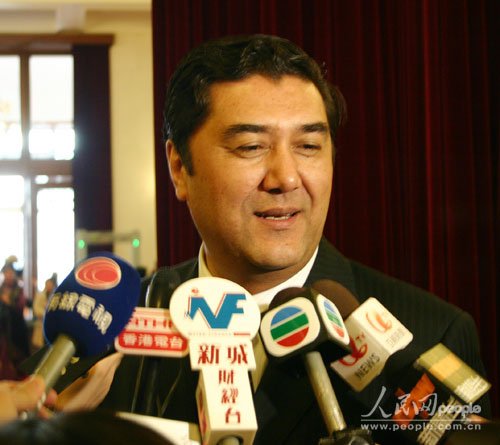 In 2009 the Chinese journal Huanqiu renwu 环球人物 (Global People, a subsidiary of People's Daily) published an interesting article on the questions of youth and "the 6th generation" leaders. Xinjiang governor Nur Bekri (Nu'er Baikeli 努尔·白克力) was ranked among the top five of "the post-60" (60后) CPC leaders, the generation born after 1960. He is portrayed as a "scholar ruling the region" (文人治区) and an "iron fist against terror" (铁腕反恐). What do we make of this? Nur Bekri and the four others (Zhou Qiang 周强, Sun Zhengcai 孙政才, Hu Chunhua 胡春华 and Lu Hao 陆昊) were predicted to become top party leaders in 2022, at the 20th CPC congress. The idea that an Uyghur would even be considered is quite astonishing, even if it is only a token "affirmative action Chinese style". It has never happened before. But will there be a 20th CPC congress?