China is changing, not only with the CPC leadership change through the 18th party congress a few weeks ago. Thursday morning last week, 22 November, bishop Ding Guangxun (K. H. Ting 丁光训) passed away, just over 97 years old. Today, 27 November, his funeral was held in Nanjing. You never heard of him? Well, he was not that often mentioned in Western media, and his death seems to have escaped Western attention almost totally, except for brief statements by the World Council of Churches (世界基督教会联合会), the Fuller Theological Seminary (福乐神学院) and a few others.
This is quite remarkable. Bishop Ding was one the major Protestant leaders in China for nearly 60 years, and from the late 1970s he was predominant leader of the Three-Self Movement (三自爱国运动) until his death. He established the China Christian Council (中国基督教协会) in 1980, which became a more church-like structure in post-denominational China. All Protestant denominations were abolished in 1958.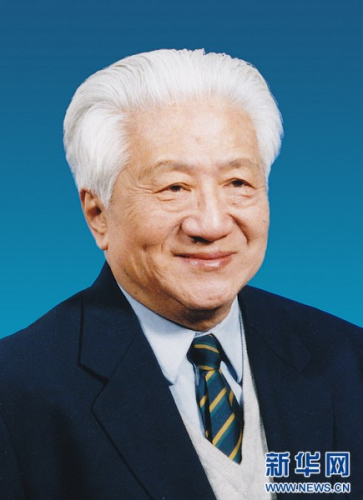 When he died the registered congregations within China Christian Council had around 25 million members, probably the largest Protestant church in the World. It is noteworthy, however, that so-called "house churches" (家庭教会), or better "unregistered churches" (非登记教会), probably have even more members together, making the total number of Protestants in China more than 50 million.
Bishop Ding initiated one of China's first NGOs, the Amity Foundation in 1985. But he was also very controversial, because of his close relation to the party-state. He was one of the Vice Chairmen of the the Chinese People's Political Consultative Conference (中国人民政治协商会议 CPPCC) for almost twenty years (until 2008). He was also on the standing committee of the National People's Congress (中国人民代表大会 NPC), China's parliament. The CPC called him a "close friend of the Communist party" (中国共产党的亲密朋友) after his death.
He was often criticized for being a "non-believer" (不信派), and for what some saw as theological deviations. Such comments have dominated Chinese microblog Weibo writings about him the last few days. Others loved him, and credited him for making it possible for the church to function openly in China at all. He was respected by many as an important ecumenical leader in the worldwide church.
His last years were darkened by dementia (失智症) and hospitalization, but as long as he lived his thinking and theology continued to influence church life in China. Research on his life and theology is only starting, but Philip L. Wickeri (魏克利) and Li Jieren (李洁人) have already made good contributions. But what will happen now? Will the church be even more fragmented, will denominations come back? How will the party-state react? At best Ding's legacy will serve as a reminder and inspiration for the future, and a new era will start. At worst things will just continue, without reflection and change.